TOP FIVE MOST GROSSING MOVIES
TOP 5 MOST GROSSING MOVIES
"E.T. ~ THE EXTRA TERRESTRIAL
(1982)
E.T. the Extra-Terrestrial
is a 1982 American science fiction film co-produced and directed by Steven Spielberg, written by Melissa Mathison and starring Henry Thomas, Robert MacNaughton, Drew Barrymore, and Dee Wallace.
E.T.
was a blockbuster, surpassing
Star Wars
to become the most financially successful film released to that point. Critics acclaimed it as a timeless story of friendship, and it ranks as the
best science fiction film ever made
in a Rotten Tomatoes survey. The film's title character has become analyzed by scholars and critics as an allegory for Jesus.
Total gross :
$434,974,579
TOP 4 MOST GROSSING MOVIE
"SHREK 2"
(2004)
Shrek 2
is a 2004 computer-animated American comedy film, produced by DreamWorks Animation and directed by Andrew Adamson, Kelly Asbury and Conrad Vernon. It is the second film in the
Shrek
series and the sequel to 2001's
Shrek
. The film features the voices of Mike Myers, Eddie Murphy, Cameron Diaz, Antonio Banderas, Julie Andrews, John Cleese, Rupert Everett and Jennifer Saunders.
Shrek 2
scored the fourth largest three day opening weekend in US history, as well as the largest opening for an animated film until May 18, 2007, when it was eclipsed by its sequel
Shrek the Third.
As of 2008, it is the inflation-adjusted
30th highest-grossing film of all time in the US
. It went on to be the
highest grossing film of 2004
. The associated
soundtrack
reached the top ten of the
Billboard
200. It is also the
seventh highest ticket selling animated film of all time
. It is, as well, the
highest-grossing fully-animated film
of all timeand DreamWorks's most successful film to date.
Total gross:
$437,212,000
TOP 3 MOST GROSSING MOVIE
"STAR WARS EPISODE IV : A NEW HOPE"
(1977)
Star Wars Episode IV: A New Hope
, originally released simply as
Star Wars
, is an American 1977 space opera film, written and directed by George Lucas. It was the first of six films released in the
Star Wars
saga: two subsequent films continue the story, while a prequel trilogy contributes backstory, primarily for the troubled character of Darth Vader.
Ground-breaking in its use of special effects, the original
Star Wars
movie is one of the
most successful films of all time
and is generally considered one of the
most influential
as well.
In 2002,
Star Wars
and
The Empire Strikes Back
were voted as the greatest films ever made on Channel 4's 100 Greatest Films poll. In the American Film Institute's 2007 poll
100 Years, 100 Movies - the Anniversary Edition
,
Star Wars
was voted the
13th greatest American movie
.
Produced with a budget of $11,000,000 and released on May 25, 1977, the film went on to earn $460 million in the United States and $337 million overseas, surpassing
Jaws
as the
highest-grossing film of all time (at the time)
and also received several awards, including 10 Academy Award nominations, among them Best Supporting Actor for Alec Guinness and Best Picture.
Total gross:
$460,998,007
TOP 2 MOST GROSSING MOVIE
"THE DARK KNIGHT"
(2008)
The Dark Knight
is a 2008 superhero
crime thriller
film directed and co-written by Christopher Nolan. The film was released on July 16, 2008 in Australia, on July 18, 2008 in North America, and on July 24, 2008 in the United Kingdom. Before its box office debut in North America, record numbers of advance tickets were sold for
The Dark Knight
. It was greeted with positive reviews upon release, and became only the
second film to earn more than $500 million
at the North American box office, setting numerous other records in the process. It is also the fourth
highest grossing film worldwide
, and
only the fourth film to earn more than $1 billion
, worldwide. The film received numerous awards nominations and two Academy Awards
[

6

]
for Best Sound Editing and Best Supporting Actor for Ledger's performance.
Total gross:
$533,184,219
THE MOST GROSSING MOVIE OF ALL TIME
"TITANIC"
(1997)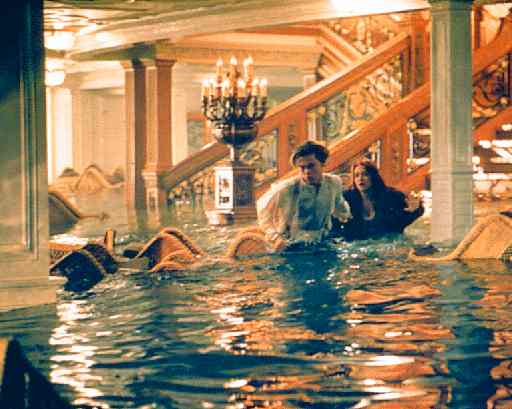 Titanic
is a 1997 American romantic drama film directed, written, co-produced and co-edited by James Cameron about the sinking of the RMS
Titanic
. It stars Leonardo DiCaprio as Jack Dawson and Kate Winslet as Rose DeWitt Bukater, two members of different social classes who fall in love aboard the ill-fated maiden voyage of the ship.
Titanic
became at the time the most expensive film ever made, costing approximately
US$
200 million with funding from Paramount Pictures and 20th Century Fox.
The film was originally to be released on July 2, 1997, but post-production delays pushed back the film's release to December 19, 1997. Upon release, the film turned out to be an enormous critical and commercial success, winning eleven
Academy Awards
, including
Best Picture
. It became the
highest-grossing film of all time, with a worldwide total of over $1.8 billion
(it is the sixth-highest grossing in North America once adjusted for inflation)
TOTAL GROSS: $ 600,788,188
AllBlogToolsFacebook comments for blogger brought to you by AllBlogTools.com , Get Yours?