Bluedreamer's Paradise is proud to bring back the
TOP FIVE HOTTEST BLOGS MEM

E
(2009)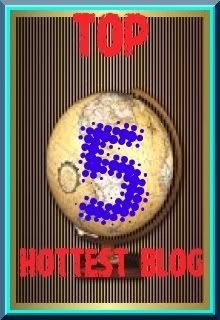 Before we go on with the new rules for this game let me just give you the short recap of our last year's winners
TOP 5
♫
Karen's Ramblings
♫
Do you Weary like I do
♫
Three Girly Girls
♫
Regina's Family Season
♫
Nutty Gals Waffles
♫
Nisha's World and Baby Alisha
♫
Pinay Wahm
♫
Splice and Dice
♫
Desparate Blogger 101
♫
Hanna's Love Poetry and Art
♫
Spread Love Everywhere
♫
Dance Inside
♫
Sheng's Simplethought
TOP 4
♫
Random Thoughts
♫
One Corner of my Life
♫ C
lumssy Mommy
♫
Coolingstar 9
TOP 3
♫
Hot Shit Form Here
♫
Livin with me
TOP 2
♫
Sit with me Awhile
TOP 1
♫
Space of Reality
See the reasons why the bloggers vote them
here
AND NOW FOR THIS YEAR'S NEW RULES
♫start copy here♫


"TOP FIVE HOTTEST BLOG MEME"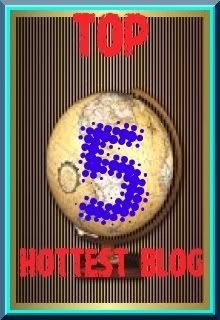 RULES:1. Simply list down how many blogs you want to be nominated .2.Give a short line or explanation why you put them on your list.One explanation for each of every blog.
(OPTIONAL)
3.Now tag as many blogs as you want.You can also tag those blogs you've listed ....you can also put your own blog in your list if you want4.[for those who've been tagged]you can also vote for a blog that was been nominated already(besides,this is what this meme is intended for,to know how many bloggers will nominate your blog)5.Submit you TOP FIVE HOTTEST BLOG ENTRY here . Submitted blogs will be the only one to be included in the tally6.Remember:Submissions of entries starts from

April 10 2009 to May 10,2009

and top five hottest blog winners will be anounced in MARCH 29,20087.enjoy listing your nominees!!
♫end copy here♫
AND NOW IM TAGGING EVERYONE
HOPING FOR YOUR PARTICIPATION
Lille Meg
for being the First Commenter for this post!