TOP FIVE BEST ANIME LOVE TEAM
TOP 5 BEST CLASSIC ANIME LOVE THEME
"SAKURA AND LEE"
This two young lovers make it on the fifth spot
there's also a an anime seriies as a continuation of their love story called "TSUBAZA" or chronicles of the wings
TOP 4 BEST CLASSIC ANIME LOVE TEAM
"TAMAHOME AND MIAKA"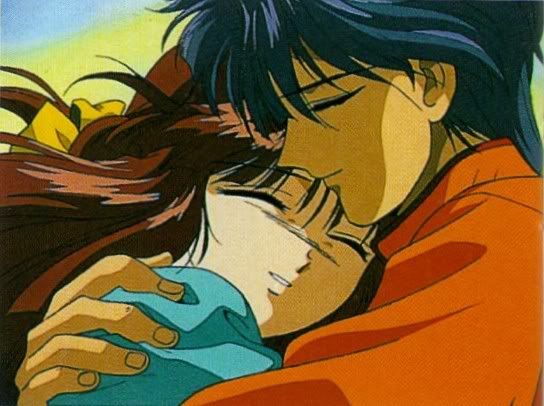 The story focus on the love story of tamahome and miaka. this is also a classic one
TOP 3 BEST CLASSIC ANIME LOVE TEAM
"YUSUKE (EUGENE) AND KEIKO (JENNYY)"


this is one of the greatest loveteam in the anime world





TOP 2 BEST CLASSIC ANIME LOVE TEAM
"MAMORU AND USAGI"
I know many of you are familiar with these two
who among as doesnt remember the loveteam between sailor moon and tuxedo mask
THE BEST CLASSIC ANIME LOVE TEAM
"RICHARD AND ERIKA"
Ritchard (Kazuya Ryūzaki)The pilot of Daimos and the hero of the series, he was raised by the Izumis after his father's death. After meeting and falling in love with Erika, he fights for the day when the war will end and they will be reunited, with his strong will of survival motivating him to be victorious. He is a karate black belt and champion (which helps battling the monsters, as Daimos has a system that makes it mimic its pilot's movements); at age 14 he suffered a terrible accident, but managed to finish his rehabilitation successfully.
Erica is The Brahmin princess, sister of Richter and the true love of Kazuya. Once a royal princess, while accompanying her father Leon and brother Richter to a council meeting with the earth forces, she witnessed her father's death, and, in attempting to calm Richter, accidentally caused Professor Ryuzaki's death. Thus to atone the death of her father she is working as a field nurse while Richter became the admiral for the Brahmin forces against Earth's. In a space accident she fell out of a burning spaceship and fell to the sea, losing her past memories about herself and what she did. Then in Kazuya's first battle he found her unconscious and by that moment he fell in love with her, unknowing that she is a Brahmin. After she recovers her memory, her guilty conscience becomes the greatest obstacle to their happiness.